Now for some shots of the Big Day! Mom and
Gia
wait in the hallway for all the guests to be seated. In the meantime, Greg is pacing in the foyer with the priest
trying to calm his frayed nerves. Didn't work.
In Greek tradition, lots of tradition going on here, the bride and groom walk together down the isle behind the priest. Actually relieving a lot of tension from this bride! She did not want to walk it alone! I offered for her sisters to walk with her or in front of her and just sit in our seats and she go on. Other sister said, speak for yourself! There was never a
rehearsal
, all was just winged. And it worked just fine.
Greg walked my mom down to her seat, which was as sweet as sweet could be.
He really loves his new mother-in-law! And she him!
Here is the beautiful CALM bride awaiting to see her groom.
I have never seen one so calm or so beautiful!
Beautifully painted and ornate. This is the newly built Greek Orthodox
Church
in Austin. This is the alter wall. There is also a huge dome ceiling that will be painted to match.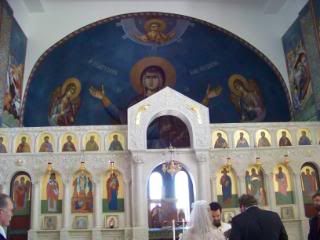 The parade of the crowned couple. I'm sure they have a more appropriate name for it, but that's what I know it as. The priest put pearl crowns on them that were connected by a ribbon. Said a book full of words and they had a parade around the alter. Three times. I thought for a minute there she was going to skip or hopscotch or something. Wouldn't have surprised me!
She was really having a good time.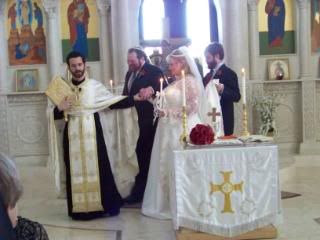 The huge "relief" kiss. It's OVER!!! In the foyer awaiting the congratulating family and friends.
The cake!
The first dance. Look at that face, tells it all doesn't it.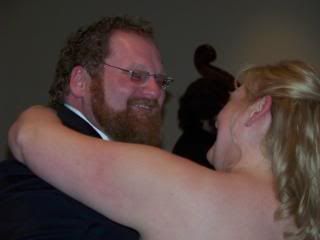 And the big
hoppin
,
skippin
,
umpah
, smash the dishes on the floor, Greek dance!
Look at the reflector on her tennis shoes glowing! And shes a SMART bride as well as beautiful!
Soon as Greg and
Gia
return from their honeymoon at Yellowstone Natl Park,
in Jackson Hole Wyoming,
I will have to remind him of that one tradition where the groom
buys a new car for the oldest new sister-in-law. I know he hasn't
forgotten
,
he's just been busy. And that's
ok
, after all he does have a wife now.
So, I can wait a week or so.
VW
Beetle
convertible
is what I'm thinking. White, red or green.